The best Waterproof belt bags for swimming, surfing and SUP
Waterproof belt bags are among the most practical SUP accessories. The comfortable and practical little helpers make the oversized drybags superfluous. If you just want to take a wallet, a few snacks and your smartphone, a dry bag is too much, but such a waterproof bag for SUP is just right.
When it comes to waterproof waist packs, it is probably superfluous to mention that the selection is important. A very cheap model, which is not 100% waterproof, would quickly cost hundreds to thousands of euros from broken electronic devices.
Instead of just the price you should pay more attention to the price vs. Quality and reliability. I'll tell you in this guide what to look for when choosing.
Below I present my favorites for the unofficial title of the best waterproof belt bag. After that, I'll go into general factors that make up a good bag. Then you can also look for suitable hip bags yourself.
Before using a fanny pack, you should first test the effect with paper, because it can always come to individual accidental Produkttionsfehlern.
EchtPower Waterproof Belly Bag
included are two waterproof bags (blue / transparent bag and a black / opaque bag)

triple seal closure + Velcro closure for waterproofness

Size: 17.6 cm x 21.8 cm (enough for all popular smartphone and iPad Mini)
Trust is the most important thing with a waterproof belly bag. Electronic car keys, important papers and the smartphone should not get wet. At first, one is skeptical.
The fanny packs from EchtPower have earned the trust. Customer reviews on Amazon * are outstanding and the ideal indicator for a product like this.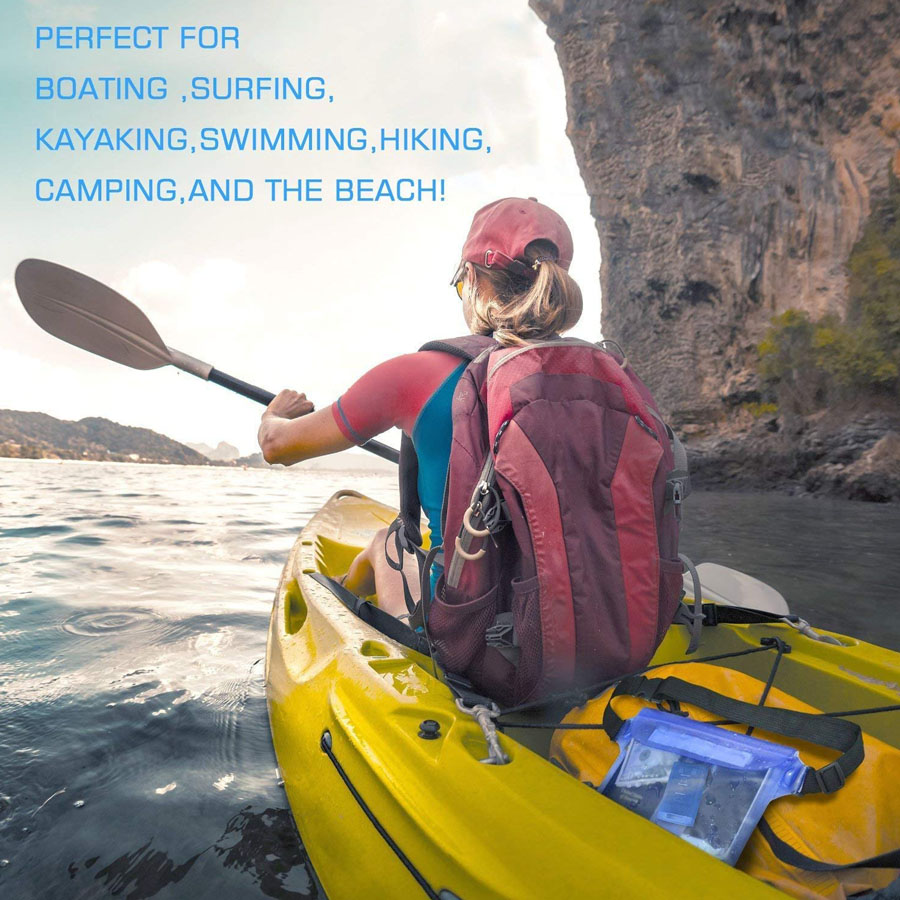 The thing is that many of the customers who have had bad experiences write reviews. Opposite are the customers, where everything works. You usually do not see any reason to write a review.
Under these circumstances, the waterproof bags of EchtPower are even more impressive, because the rating is almost 100% customer satisfaction.
EchtPower also offers much more than just a waterproof belly bag. For the price you get two individual bags. The blue model is transparent, so you can use your phone, for example. While the black bag is opaque.
Conclusion: The EchtPower model is simple but effective. The bag keeps tight and protects the valuable contents dry.
AQUAPAC waterproof belt pouch
Size: 21 x 15 cm

Belt length: 115 cm

opaque black material
AQUAPAC is the go-to-brand when it comes to waterproof cases and bags. With its waterproof belt pouch, AQUAPAC also produces a bag for stand up paddlers
HAWK OUTDOORS waterproof belly bag
IPX8 certified

Size: 20.5 x 14.5 cm (for devices up to 6 inches screen size)

Available in black and blue
HAQK OUTDOORS offer is particularly exciting. To the belly bag there is a matching phone case added. To be honest, most people will probably put their phone in a waterproof phone case as well
With this deal, you can save yourself the purchase of an extra sleeve.
How to find the perfect waterproof belt bag
I'll explain what you should pay attention to when choosing. Equipped with the knowledge, you can also compare offers and make informed purchasing decisions.
IPX6, IPX7 and IPX8 standards

material

size

Extras
IPX6, IPX7 and IPX8 standards
The IPX classes are the most important thing in every product description. The number behind the IPX is the protection class for water protection. The classes IPX6, IPX7 and IPX8 are suitable:
IPX6:

 These bags provide 

protection against heavy jets of water

 . They also remain water resistant to the three-minute spraying with a fire hose from 3 feet away. Underwater, these models are not tested.

IPX7:

 This category of belt pouches provide protection when 

completely submersed for a limited time

 . Specifically, they keep sunken at 1 meter water depth the interior for at least 3 minutes dry.

IPX8:

  Bags with this winnings withstand 

indefinitely

 when fully immersed . Tested at 1 meter water depth for half an hour. If the contents are still dry after the time has elapsed, the bags receive the seal.
For stand up paddling, your fanny pack should be of the IPX7 or IPX8 type to really protect you when you fall into the water. IPX6 would only provide protection against splashing water or heavy rain.
Note: Outdoor equipment, which is referred to as waterproof, is usually only tested to IPX6 and therefore does not necessarily keep underwater tight.
Most models are made of the materials polyvinyl chloride (PVC) or polyurethane (PU). These synthetic materials are water repellent and easy to care for.
Cleaning with a damp cloth is usually completely sufficient.
When buying a belt pouch, the size is important. Should it just be a very small model for car keys and smartphones or does it still have to fit in some food? While this decision depends on you, I would still pay attention to the strap length.
The belt should in any case reach around the waist or stomach. Some models can also be worn as a shoulder bag, if the belt is correspondingly long. With stand up paddling, you should rather cross the bag so that you have to measure the distance from your left (right) hipbone to your right (left) shoulder.
Some bags have a transparent side. This is made for cell phones and tablets, because the devices can be operated without getting wet or dirty.
I hope that this guide has helped to make waterproof belt bags. It should be noted that these hip pockets can be used in addition to SUP for a variety of activities.
For other types of water sports, jogging or heavy rain, these bags keep your valuables dry.
With stand up paddling, these bags also allow you to carry your valuables, such as smartphones and car keys, even without a drybag. You can also easily approach your stuff and take a picture or have a snack.
I'm a big fan of freedom through the fanny pack. You do not have to grab the board with your luggage, but have a small pocket on your hip that does exactly the same job.
Whatever bag you choose, I hope you enjoy the next SUP tour!