The best boards for Crusing and Long tours
Touring boards are for boards that are designed for longer distances. The focus is on the straight ahead. Unlike allrounders, the rear and bow boards are no longer round. The tapered ends make the Touring Boards (also called Crusing SUPs) sleek and reduce water resistance.
The Touring SUPs are the ideal choice for exercising and for longer tours. The pointed underwater ship puts you in the position to build up high speeds and to progress more efficiently.
Touring SUPs are the typical secondboards. In the first summer, many Stand Up paddlers gain their first experiences with the sport. If there are longer tours or if you want to go for endurance and weight training, you can quickly reach for the more efficient touring SUPs.
My favorites
Touring boards are just the right class for advanced paddlers. These boards promise more speed, higher efficiency and better directional stability. Among my absolute favorites among the Touring SUP Boards are the following models:
Smaller discount offer many manufacturers from time to time, but at supboard-99.de there are currently up to 150 € discount on selected SUP boards.
If you do not hit, it's your own fault!
-> To the reduced boards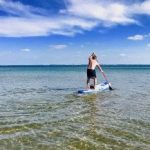 2019 is a great year to enter Stand Up Paddling. Sure the summer will be just as great as last year. And the selection of boards has never been so great!
My favorites for this SUP season are: