Interview with Thorsten from SUP Station Cologne
Thorsten tells me in this interview about his story on how a fun idea the German SUP Championships emerged, gives tips for beginners and reports from SUP Frisbee.
Hi Thorsten! Please introduce yourself to my readers first.
Hello everybody! My name is Thorsten Kegler and I have been running Stand Up Paddling for several years.
Before the opening of SUP Station Cologne in 2014, I traveled a lot and worked all over the world as surf instructor and surf guide, lived in a bus for many years and have now opened another station in my old hometown Koblenz.
How did you come to Stand Up Paddling?
Many years ago we made a surfboard paddle event out of a fun idea in Cologne and a class in this event was Stand UP Paddling. We started with 4 participants in the class SUP, but after just one more event, the German SUP Championships with ISA qualification became the result. Many other championships followed and became bigger and bigger.
In 2016, I did not feel like betting on the squabbles of the associations and being the boor. With the SUP Wave DM in Portugal I hung the nail on the wall at the competition Orga.
Now I concentrate on bringing the sport to many people.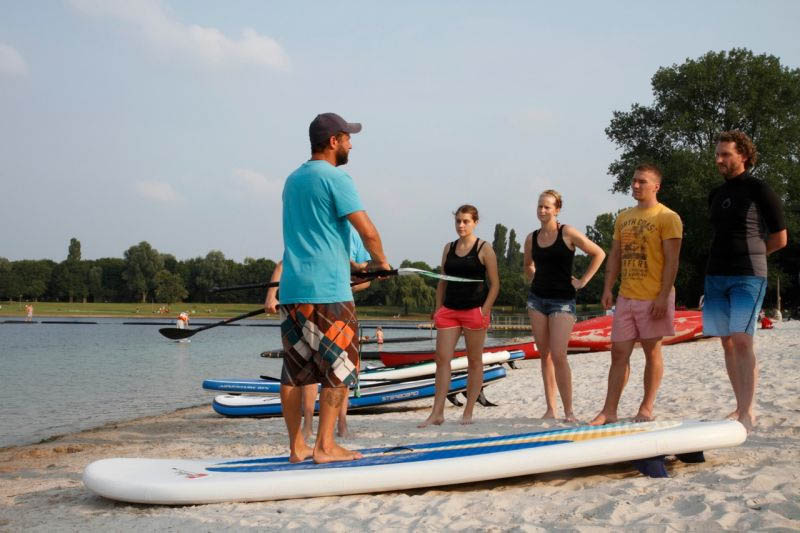 And how did the SUP Station Cologne come about?
Oh, I do not know, I thought in 2014: "I'll just do it in Cologne.".
Because of the jobbing on TV I had good connections to the media and thanks to "1 Live" after 5 days of radio accompaniment in the days leading up to the opening, all of Cologne knew that I was starting with the station Cologne.
That went well until 1 month before the start of the season in 2017, then unfortunately they betrayed me and threw me out of my position one month before the start of the season. I just do not want to say more. Extraordinary Cologne Carnival sessions stop.
As a course provider and operator of SUP Station Cologne, you also have a lot to do with newcomers. What are your 3 best tips for the beginner?
1. But in any case it's good – if you really want to learn something – to choose an SUP school that has been on the market for a bit longer and can show something according to ratings and qualifications.
2. By being able to buy boards at low prices in every klit, many people think, "It's easy, I can do that". Maybe you should just let it show for an hour. This helps one and the sport immensely.
3. Do not miss to try SUP. That's just good for body and soul.
Especially in the year 2018 Stand Up Paddling has grown again. More and more people can now start with the term SUP and felt on every lake you can see Stand Up Paddler. Where do you think the journey is going? Is SUP getting even bigger?
I have been asking myself this for years and each year somehow gets on top of it.
The material was in terms of quality in 2018 already the Burner and has again made a giant leap to the years before.
There will certainly be more prohibitions and rules when it comes to navigating water surfaces of any kind. The simple lakes are even fuller I can only hope that if the Stand UP paddlers dare to cross the shallow water, they would rather seek technical help and take courses.
What do you think about the new sub-disciplines within SUP? Have you tried Wave SUP, whitewater SUP, SUP Yoga and co? What is your opinion on the future of these "sub-trends"?
Well, these are not new for a long time, especially yoga on the SUP is already eternal.
Whitewater and SUP Wave will surely stay small for non-marine and mountain living. In addition, it requires a great deal of knowledge and time. I have been surfing for a long time and am also in the wave with SUP.
Unfortunately, I injured my shoulder before my last surf trip and could not do so much in the winter of 2018. Whitewater is my motivation. Right now in September in the Alps I learned something, but there is still a lot missing.
Unfortunately we do not have any practice possibilities in Cologne or Koblenz. But I will stay tuned and invest more time.
Another question. You are also offering SUP Frisbee on your website. How can you imagine that?
In short: 2 teams of 3 people, 2 goals (buoy or something similar), 1 Frisbee and a lot of fun.
We even have a fixed set of rules and training times. You do not learn the stand up paddling better. As soon as the starting signal is fired, it's off and everyone has to prove their skills.
What other offers are there at SUP Station Cologne?
In 2019, we will change the concept for Cologne. Unfortunately for security reasons I have to keep this locked up until spring. Laughs
The Cologne Stand Up Paddle Interested may look forward to a lot of new, adventurous things!
You're now also active in Koblenz with a SUP station. How did that happen?
I have decided at short notice this year to include Koblenz in the program. It is almost my old home, where I spent my entire youth
There was the Malte at the location until 2016, who was there with a lot of heart and soul with one of the first with a SUP station. Then it was 2 years broke and NONE has taken care of it after his departure. A great location with many perspectives.
Which offers for Stand Up Paddlers and SUP are you offering in Koblenz?
The SUP Station Koblenz is located in a beach club directly on the Moselle. You can chill out, have cool drinks and paddle with us. We have a large rental with many different boards, courses of all kinds of children's birthday parties about corporate events, JGA etc.
What is special with us, we offer great tours. The Moselle and the surrounding paddle possibilities are endless. We also train special areas such as running water and people with disabilities.
Honestly, which station is cooler? The one in Cologne or the one in Koblenz?
I owe much to Cologne and to all the many people who have paddled here in the past. Unfortunately, in Cologne paddling is limited possible, as far as the shallow water lakes are concerned.
The next step is the Rhine. Koblenz is with all its great and varied possibilities as far ahead and will certainly develop again to a great stand up paddle spot. Stop by and become a part of it. From May 2019 it starts again.
Thomas, thank you for the interview!