All Options: SUP with drive
The battery technology is developing racially . No wonder the electrification does not stop at Stand Up Paddling. More and more companies are entering the market, offering SUP with motor.
In this post we present you the best products.
First of all, however, a distinction must be made:
The motorized Stand Up Paddling is available either as a combination with a SUP board or as a kit. For these self-build motor SUPs, the motor is mounted in the fin box.
Currently there are the following options:
Aqua Marina Bluedrive engine




mountable engine with 240W, 2-4 hours driving time, up to 5 km / h fast, price: € Aqua Marina also offers the engine in discounted bundles with their models:

Electrafin




extension to the board, maximum speed 7-8 km / h, running time 2 to 6 hours, 20+ km range, mounting on standard fin box

Sipaboards




board including motor, around 2000 €, self-inflating SUP boards, LED lighting, jet propulsion, 160W, up to 6.5 km / h

Scubajet




board with engine, jet propulsion, weighs only 3 kilograms, 400W for about 1200 € and 200W for about 1500 €, up to 8 km / h, battery life and speed 20 to 180 minutes
From now on it will be looked at more closely. What is the difference between the individual systems?
The Bluedrive engine is built and used by the renowned SUP brand Aqua Marina . It is a motor that is installed in place of the fin.
Compatible is the BlueDrive with all models of Aqua Marina and various other boards.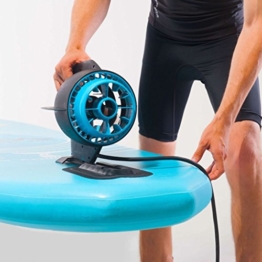 The operation is very comfortable. The engine is controlled wirelessly via buttons on a waterproof armband. The speed can be adjusted gradually from 3 to 5 km / h. The travel time per battery charge is about 2 to 4 hours.
An effective comfort and safety measure is the Coiled Leash, which is attached to the emergency stop switch of the engine. In an unwanted paddling, so the board does not go away by itself.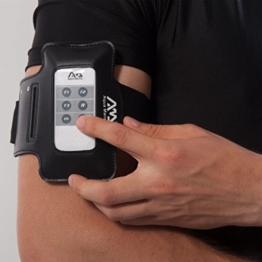 The ExlectraFin is compatible with most SUP boards.
The ElectraFin can choose between 99 speed levels. The battery of the ElectraFin lasts about 2 hours at full speed (7 – 8 km / h).
With less time, tours of up to 6 hours are possible. The electric motor can accelerate forward or backward. The SUP board can also be comfortably parked.
The assembly is uncomplicated. You get a good first impression in this video: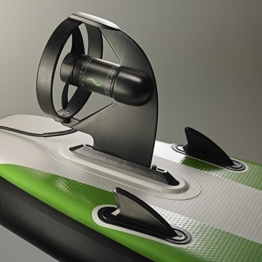 The charging time of the battery is 4 to 5 hours.
With the ElectraFin tours with a length of 15 km (full speed) up to 30 km are possible.
Smaller discount offer many manufacturers from time to time, but at supboard-99.dethere are currently up to 150 € discount on selected SUP boards.
If you do not hit, it's your own fault!
-> To the reduced boards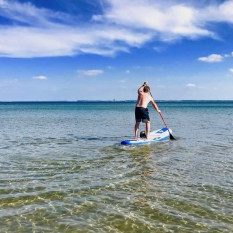 2019 is a great year to enter Stand Up Paddling. Sure the summer will be just as great as last year. And the selection of boards has never been so great!
My favorites for this SUP season are: