The best SUP Cars and Buggies
A SUP trolley is one of the most comfortable ways to transport a SUP board . The practical helper takes you almost completely from the work and it is small and quite light.
During transport, such a trolley makes hardly noticeable, because the trolleys can be folded in a few simple steps. Often even the wheels can be removed.
as the trolleys are still called, are designed for high weights. The rule of thumb is: the higher the load, the bigger the tires.
For the weight of SUP boards even the most delicate models are completely sufficient. Oversized does not have to be a SUP trolley.
Practically, in any case, a support that leaves the trolley.
With the material I would bet on aluminum. SUP trolleys made of aluminum are stable, the material is very stable and it does not rust.
Pure SUP cars are rare. However, the trolleys for other water sports can of course also be used for stand up paddling boards. If you do not find what you are looking for in my list, you can look around for kayak cars, canoes or boat vans.
Produkte von Amazon.de
‹
›
Maximum load capacity: 70 kg
Dimensions: 68 x 32 x 8 cm
Dimensions folded: 60 x 34 x 34 cm
Material: aluminum
The SUP Trolley by Seria is actually made for kayaks and canoes. For SUP boards, the model is just as good.
The trolley is quickly assembled and can – if desired – disassemble for transport in a few simple steps.
The board is fixed with straps on the car and can then be pushed relaxed.
Produkte von Amazon.de
‹
›
Pack size: 55 x 35 x 24 cm

Maximum board width: 18 cm

Material: aluminum

Tire material: rubber
With this cart from Navyline, the SUP boards are attached vertically. That's a big advantage, on steep terrain.
The aluminum rods are padded so they do not scratch the board. The Navyline dolly for SUP boards is equipped with rubber tires and therefore ideally suited for off-road use.
Produkte von Amazon.de
‹
›
Maximum payload: 60 kg

Tire diameter: 26mm

Tire pressure: max. 2 bar

Material: aluminum
Originally designed as a chariot for kayaks, canoes and boats, the Duramaxx Sea Mule also does an excellent job as a trolley for SUP boards.
On this small cart, the boards can be strapped and pushed to the water. Most of the smuggling is completely eliminated.
The Sea Mule Trolley can be cut like the other models with a few simple steps, making it space-saving for transport.
Weight: 3.9 kilograms
Maximum load capacity: 75 kilograms
Navyline is an experienced producer of SUP accessories and other water sports products. Based on the wealth of experience, this canoe car was developed.
With a load capacity of a maximum of 75 kilograms, this car loosely supports all SUP boards.
Produkte von Amazon.de
‹
›
Jobe has a trolley especially for stand up paddling boards on offer.
With this SUP trolley you can come all the more relaxed to the water.
Boot on, Jobe Trolley out, strap on the belt and off you go to the water!
SUP trolley from BIC in the video
The video shows the simple setup and operation of the BIC SUP trolley. In a few steps, the board is fixed on the trolley and can then be pulled already relaxed
Smaller discount offer many manufacturers from time to time, but at supboard-99.dethere are currently up to 150 € discount on selected SUP boards.
If you do not hit, it's your own fault!
-> To the reduced boards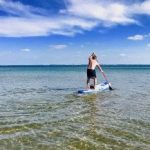 2019 is a great year to enter Stand Up Paddling. Sure the summer will be just as great as last year. And the selection of boards has never been so great!
My favorites for this SUP season are: