The best floating SUP docks for fitness and Yoga
SUP Fitness and SUP Yoga are two sub-disciplines of Stand Up Paddling, which are very trendy. The new floating SUP platforms are the perfect complement to SUP courses and group training.
The sturdy and very thick platforms are completely coated with a non-slip cover pad. The size of the deck makes it the perfect environment for fitness and yoga. At the docks of the platforms several SUP boards can be put on and tied up.
The SUP platforms have only been available since the 2018/2019 season. The target audience of the platforms are water sports and SUP stations offering group courses for SUP fitness or yoga. Exercises can be performed beautifully on the platforms while the students' boards stay tied to the platform in place.
The platforms are suitable for lakes, pools, the sea or swimming pools. These floating docks are ideal for fitness centers, hotels, outdoor pools, SUP stations and water sports centers.
If you own an SUP station and give courses, you're probably interested in the best SUP wall brackets and electric SUP pumps
Volume: 470 liters
Number of docks: 8
Maximum load: 220 kg
Dead weight: 14.5 kilograms
The Aqua Marina Yoga Dock is part of the 2019 series. This SUP platform holds 470 liters and carries a maximum load of 220 kilograms. The yoga deck will be inflated to 15 PSI. Before and after the yoga session, the yoga deck itself can be paddled.
Buy On Amazon *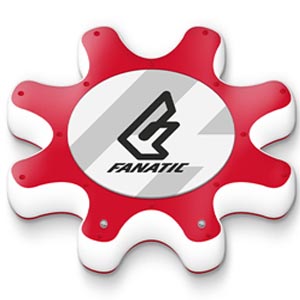 Volume: 1000 liters
Number of docks: 8
Dead weight: 16 kilograms
Fanatics platform is 20 cm thick and with over 1000 liters volume the perfect stable base station for SUP stations and SUP schools, hotels and fitness centers. The double-walled construction ensures special rigidity and durability. At the 16 D-rings SUP boards can be moored. The Fly Air platform comes with a number of straps to connect the boards to the platforms, two air pumps and a SUP backpack with wheels .
Smaller discount offer many manufacturers from time to time, but at supboard-99.dethere are currently up to 150 € discount on selected SUP boards.
If you do not hit, it's your own fault!
-> To the reduced boards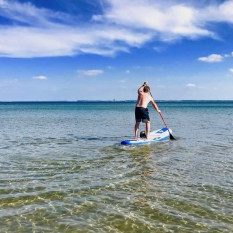 2019 is a great year to enter Stand Up Paddling. Sure the summer will be just as great as last year. And the selection of boards has never been so great!
My favorites for this SUP season are: