SUP paddles allow you to safely carry and stow your SUP paddles. The SUP bags are available for one piece as well as for split SUP paddles. They provide protection through good padding and the paddles are easier to carry in SUP paddle bags.
The pockets can also be flexibly adjusted to the paddle length.
Conclusion: Especially with high quality paddles, these cases are worthwhile. With such a bag you can protect your paddle from unnecessary damage during transport or storage. You will hardly find a better solution than a SUP paddle bag. And when traveling with the equipment you will not want to miss the risers.
For even more information, you can read my guides on SUP Boardbags and SUP Paddles.
Dakine one piece SUP paddle bag
Adjustable for paddle lengths from 183 cm to 218 cm
suitable for 2 paddles
solid zipper
heavily padded
The Dakine SUP paddle bag is the best choice for one-piece SUP paddles. For a fair price you get a high quality paddle bag, which is adjustable in length. The bag can take up to 218 cm long paddles. For shorter models, the end can be folded.
The bag is very well padded. In it your paddles are safe. The majority is appropriate, because in this bag by Dakine fit in two paddles.
The Dakine One Piece SUP Board has also received great reviews on Amazon. The customers were particularly impressed by the excellent workmanship and the upholstery.
MagiDeal SUP paddle carrying case
suitable for three-piece SUP paddles

with carrying handle

Material: nylon

Features: full-length zipper and carrying handle
MagiDeal is known for cheap SUP accessories. The range of MagiDeal is my saving tip with the paddle carrier bags. For an excellent price-performance ratio you get here a solid carrying bag for divisible paddles.
With a length of 120 cm all two- and three-piece paddles fit into the shell of MagiDeal.
ProLimit SUP paddle protection
for paddles between 150 cm and 225 cm

Material: nylon

Features: Solid zipper and carrying strap
The one-piece version of ProLimit is a great choice for one-size paddles. The offer of ProLimit is very fair. For long paddles that do not fit in the Dakine case, ProLimit models are the perfect choice.
for up to 220 cm long one-piece paddles

suitable for up to 2 paddles

Material: polyester

Features: zipper and 6mm padding
Naish's paddle bag is a qualitative model. The bag can accommodate up to 2 paddles, is well padded and definitely an exciting choice.
The bag is suitable for one-size paddles measuring a maximum of 220 cm. For transport, the bag has a carrying handle.
ProLimit SUP paddle bag for three-piece paddles
for divisible SUP paddles

Colour blue

Material: polyester

Features: Durable zipper and carrying handle
In addition to the model for one-piece paddles, ProLimit also has the right protection for divisible SUP paddles with this bag.
The price-to-money ratio is very fair. If you want to stow and transport such a paddle comfortably, you should take a look at the ProLimit bag.
Smaller discount offer many manufacturers from time to time, but at supboard-99.dethere are currently up to 150 € discount on selected SUP boards.
If you do not hit, it's your own fault!
-> To the reduced boards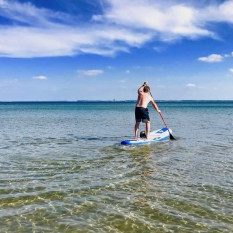 2019 is a great year to enter Stand Up Paddling. Sure the summer will be just as great as last year. And the selection of boards has never been so great!
My favorites for this SUP season are: