In comparison SUP tethers for knee and foot
A SUP Leash is standard equipment. The tether is attached to the body with one end on the board and the other end. Depending on whether it is tied to the ankle or under the knee, it is called an ankle leash or a knee leash.
There are not two different types of SUP Leashes. Whether ankle or knee leash depends on your own calf, feet and comfort.
The majority of tethers are curled. The risk of injury is the least for a helical coil. Leash is the least because it only expands to full length when dropped, and therefore does not tangle in underwater plants or rocks when driving.
In running water, the use of a normal leash is life-threatening. If you still want to use it, you need a model with an emergency release that is worn around the waist. I have presented the best SUP belts and SUP leashs for the hips here .
Brand: Aqua Marina
Length: 240 cm
Thickness: 7 mm
The 7 mm thick black drawstring Aqua Marina is made of durable material. Optimally, this SUP Leash can be used in shallow water.
Brand: iMusi
Length: 304.8 cm
Thickness: 7 mm
With the approximately 305 cm long tether of iMusi, the SUP board does not float away so fast. Easy installation, comfort through padded ankle cuffs and a lower weight characterize this model.
Brand: Mistral
Length: 243 cm
Thickness: 7 mm
The SUP Leash by Mistral has a small pocket, in which about a key can be stowed. This leash is particularly suitable for attachment below the knee.
Brand: Naish
Weight: 222 g
Type: Ankle Leash
The brand of the world-famous wind, kite and stand up paddling surfer Robby Naish also produces its own SUP leash. The Naish Coiled Leash is worn above the ankle.
Brand: Dakine
Length: 304.8 cm
Thickness: 3 mm
The black Coiled Leash by Dakine is attached to the ankle. Dakine is particularly active in the US. There, this leash enjoys great popularity. In this country, the Dakine Leash is also available.
Smaller discount offer many manufacturers from time to time, but at supboard-99.dethere are currently up to 150 € discount on selected SUP boards.
If you do not hit, it's your own fault!
-> To the reduced boards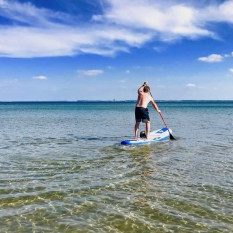 2019 is a great year to enter Stand Up Paddling. Sure the summer will be just as great as last year. And the selection of boards has never been so great!
My favorites for this SUP season are: