Book recommendations on Stand up Paddling
SUP - Stand Up Paddling: Material - Technique - Spots
Publisher: Delius Klasing
Author: Christian Barth
Year of publication: 2011
160 pages
Price: 16.9 €
Christian Barth is a real stand up paddling fan and you can feel it too. On 160 pages, the technology is taught with many photos and graphics, informed about equipment and presented suitable waters.
Especially because of the good illustrations, the book is really good. I highly recommend it.
More specifically, I go into the SUP book by Christian Barth in this  review  .
Buy on Amazon *
SUP (surf Special): The Stand Up Paddling Bookazine
Publisher: Delius Klasing
Year of publication: 2013
166 pages
Price: 9.9 €
The well-known windsurfing magazine surf dedicated a special edition to the relatively young Stand Up Paddling. The magazine was published in May 2013. Therefore, not all information is up to date.
Timeless are content such as the illustrated guide to driving techniques for newcomers, advanced and professionals and the spectacular photographs.
Stand Up Paddling: SUP - the fascination of a new sport
Publisher: Delius Klasing
Author: Steve Chismar
Year of publication: 2013
160 pages
Price: 24.9 €
The book "SUP – the fascination of a new sport" was written by a real fan. It features fantastic illustrations, boards and paddles, places to stand-up paddling, and some well-known stand-up paddlers.
Especially the great shots and the interesting performances of the athletes make the book so interesting.
SUP Travel Guide Germany: The 50 Most Beautiful Routes for Stand Up Paddling
Publisher: Deutscher Kanu-Verband
Author: Jan Meessen
Year of publication: 2016
216 pages
Price: 27.8 € (hardcover), 19.99 € (Kindle Edition)
Jan Meessen traveled extensively due to his position in the tourism industry. Meanwhile, he has traveled thousands of miles in and outside Europe on SUP board. The gained experience of stand up paddling at sea, rivers, seas and in channels, he shares in this SUP guide.
I especially like the detailed information about the tours. Entry and exit possibilities, sights, danger spots on the route, restaurants and hotels nearby and parking facilities are described in detail.
With the SUP Guide Germany Jan Meessen has created a more extensive but paid version of our SUP Spot List for Germany . By beautiful pictures and more extensive information Meessens book is definitely worthwhile.
Publisher: BLV Buchverlag
Author: Percy Shakti Johannsen
Year of publication: 2017
64 pages
Price: 12 €
In his book Percy Shakti Johannsen describes a special phenomenon: SUP-Yoga. The mix of classic yoga and stand up paddling is great for balance, calm and instant relaxation, and deep muscle training.
Hardly anyone would be better qualified to write a book about SUP-Yoga. Johannsen already discovered the subtrend in 2010.
The author and yoga teacher is also one of the first SUP yoga teachers in Germany.
Smaller discount offer many manufacturers from time to time, but at supboard-99.dethere are currently up to 150 € discount on selected SUP boards.
If you do not hit, it's your own fault!
-> To the reduced boards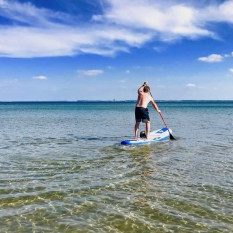 2019 is a great year to enter Stand Up Paddling. Sure the summer will be just as great as last year. And the selection of boards has never been so great!
My favorites for this SUP season are: