The best boards for high speeds and Sup Competitions
Race SUPs are the boards for true speed maximizers. Where cruisers and touring boards still provide some stability, Race SUP boards do not cut corners. The racing cars are fully designed for high speeds. The most striking difference to touring boards is the extreme length of the race boards of up to 450 cm.
The underwater ship of the Race Boards is inspired by the sleek rowing boats. Just like rowing, the Race SUPs are optimized for straight-ahead driving and maximum speeds.
The sophisticated design and the installation of light and expensive material are reflected in the high prices. The Race SUPs were only available as hardboards until a few years ago. New and established SUP manufacturers are increasingly turning to inflatable Race SUPs in recent years.
Smaller discount offer many manufacturers from time to time, but at supboard-99.de there are currently up to 150 € discount on selected SUP boards.
If you do not hit, it's your own fault!
-> To the reduced boards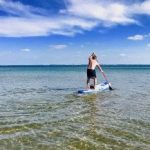 2019 is a great year to enter Stand Up Paddling. Sure the summer will be just as great as last year. And the selection of boards has never been so great!
My favorites for this SUP season are: