SUP Boards with a four-digit price tag promise a stable and lightweight design that enables top performance. In this segment you will find the necessary advanced material and professionals who want to use the SUP boards for racing, touring or more specialized applications like Wave SUP, Whitewater SUP or SUP Fishing.
The special requirements are usually only covered by models of this price range.
Smaller discount offer many manufacturers from time to time, but at supboard-99.dethere are currently up to 150 € discount on selected SUP boards.
If you do not hit, it's your own fault!
-> To the reduced boards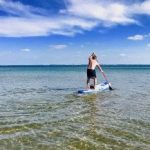 2019 is a great year to enter Stand Up Paddling. Sure the summer will be just as great as last year. And the selection of boards has never been so great!
My favorites for this SUP season are: