Hardboards - Fixed SUP Boards
Fixed SUP boards are the closest to the classic surfboards from windsurfing and wave riding. The solid SUPs (also called hardboards) are made of different materials. Carbon, wood, AST, ASA, ADPE, polyethylene, polyester and more are used. The material determines the robustness of the SUP, its weight and, to a significant extent, the price of the board.
General to fixed SUP boards:
Fixed SUPs usually withstand a higher weight. However, the problem is the transport. While inflatable SUPs can be deflated after the paddle trip and the SUP can be stowed in the backpack, the transport of fixed SUPs with a length of up to 3.4 meters is much more complicated. A storage facility near water would of course be a big plus.
Driving characteristics of solid boards
Fixed Boards These are better to maneuver and the high stability, waves can be better driven, as well as higher speeds achieved! This is also the reason why SUP races almost exclusively use solid boards.
Quality and price question
Fixed boards are more expensive than iSUPs through the bank, but in any case these are also higher quality. While an inflatable SUP can be tough, but can break, it takes a lot to destroy a solid board. Similarly, typical weaknesses such as the air pump or the various valves are not available on solid boards. For a long-term board, such an investment can certainly pay off over time.
Smaller discount offer many manufacturers from time to time, but at supboard-99.dethere are currently up to 150 € discount on selected SUP boards.
If you do not hit, it's your own fault!
-> To the reduced boards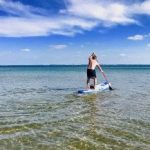 2019 is a great year to enter Stand Up Paddling. Sure the summer will be just as great as last year. And the selection of boards has never been so great!
My favorites for this SUP season are: