Trendsport Stand Up Paddling explains
SUP is the abbreviation for Stand Up Paddling, so the stand-up paddle. The SUPen is developing rapidly worldwide.
When SUPing you stand on a kind of oversized surfboard and paddle with a long piercing paddle. The size of the board ensures a secure footing as is the case on a normal surfboard.
The water sports are growing enormously in this country too. The great thing about the SUP is that the sport is something for young, old, athletic, unsportsmanlike, small, tall, fat and thin. Stand Up Paddling is fast and intuitive to learn and anyone can determine their own workout – whether fitness training or relaxation in nature you decide
How did the SUPen develop?
The story of Stand Up Paddling is controversial. The most plausible explanation is that SUPs originated in the Polynesian archipelagos . Since the 17th century, local fishermen continued paddling upright with wooden planks on the water.
Only later do the Hawaiian beachboys use SUP as a pastime on windless and undulating days. Only since about 2004 Stand Up Paddling became a proper sport.
It quickly became apparent that SUP is an extensive recreational sport, which in addition to a mental relaxation in nature is also an excellent physical whole body workout. With SUP you can train the deep muscles and the balance wonderfully. Furthermore, standing up paddling really requires all the muscles from the little toe to the fingertip.
In North America, the modern SUP has spread first. Meanwhile, the sport has arrived in Europe and Germany. On all types of waters in this country you can feel more stand up paddlers than other water sports. In contrast to canoeing, kayaking and surfing, SUP grows.
To break through with the masses, SUP has brought the new technologies with inflatable stand up paddling boards. Unlike bulky surfboards and kayaks, the inflatable SUP boards can be comfortably carried in a backpack. This gives the SUP what most water sports can not deliver – flexibility and spontaneity. At first there was a mix between paddlers swearing on hard (solid) boards and those putting on inflatable boards.
Today, there are a large number of stand up paddlers who primarily ride on inflatable boards. Their share is around 95% today. SUP has also been well established as a sport. The range of competitions ranges from individual races to racing series to SUP Polo tournaments.
So you start with the SUP
The best way to start the SUP is to just start. I myself learned the basics of stand up paddling (balance, paddle, straight, slow turns) in about 30 minutes.
Other newcomers have proudly told me of similarly fast successes. The SUP boards are really much wider than surfboards built and therefore also very stable. The basics you learn best in contribution in 5 minutes SUP learn? or in Youtube videos.
Of course, you do not learn the practice from an internet video or a text about a sport. The main thing is that you just have to get in, this also means getting wet.
A lot of time to get on a steeply rising learning curve, it really does not need for SUP.
---
Who is not the type of person who prefers to teach something alone or who wants to accelerate the already fast learning process, can also take a course. In my SUP map you will find numerous water sports stations that have corresponding offers for beginners.
That's what you need for the SUP
For SUP you need less equipment than windsurfing. The basic equipment for SUP is not that extensive. And best of all, everything fits in a backpack.
Basic Equipment
Optional
A 

backpack

 for transporting and storing the board and paddle.

A 

life jacket

 gives you security, if something happens or you are not a practiced swimmer.

A 

waterproof phone case

 allows you to take your smartphone on the tour. But do you want that?

A 

wall mount

 for the space-saving and chic storage of your SUP boards.
Where can you SUP?
The German lakes and many canals in this country but also offer an equally good conditions. That's another reason why SUP is so well received in Germany.
In dozens of hours of work, I have an interactive SUP Spot Germany map built into my blog. Inactive because everyone can enter their own favorite spots, which I then moderate and probably unlock. So you can be sure that the information is correct and find the best tips from local paddlers in your area.
Click here for the Deutschland SUP card .
After a few e-mails, I have created similarly functioning maps for Austria and Switzerland. It takes some work from the community to find cool spots in these two countries. However, some of the best spots have already been recorded.
Outlook on the future of the SUP
SUP is growing fast. I can feel that with my blog too. Every season more interested people come to my side. I am very curious where the journey is going.
In terms of speed of innovation, hardly any sport can compete with SUP. Apart from the numerous sub-disciplines such as SUP Yoga, SUP surfing, SUP polo and SUP windsurfing, there are a number of technical innovations.
Paddlers have always wanted electric pumps or, even better, self-inflating boards. No problem – now there are both. The engine SUPs are equipped with an electric motor that can accelerate you up to 6 km / h, taking SUP in a completely different direction.
The really exciting thing about SUP is this high level of dynamics, which is now deeply rooted in the DNA of Stand Up Paddling and always produces new exciting developments.
I keep on looking forward to reporting daily about the latest SUP trends in my blog here at www.standup-experte.com
What is up to you?
Smaller discount offer many manufacturers from time to time, but at supboard-99.dethere are currently up to 150 € discount on selected SUP boards.
If you do not hit, it's your own fault!
-> To the reduced boards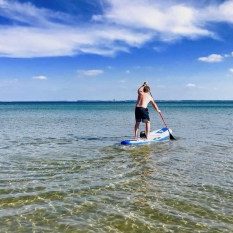 Hi, I'm MANFRED. tWO years I've written here on STANDUP-EXPERTE.com about SUP and everything that goes with it.
2019 is a great year to enter Stand Up Paddling. Sure the summer will be just as great as last year. And the selection of boards has never been so great!
My favorites for this SUP season are: