The best wall and ceiling brackets for SUP boards presented
SUP wall brackets allow a space-saving and stylish solution to store SUP boards . An alternative to mounting on the wall are ceiling brackets.
4boarders ceiling / wall mount for SUP boards
Brand: 4boarders

Use as ceiling or wall mounting

Made in Germany

suitable for boards up to 80 cm wide

Material: galvanized, stainless steel (2 cm)

Delivery includes screws and dowels
The customer feedback is also excellent. Often you read on Amazon * , that the installation is very fast (a customer even speaks of 5 minutes), the construction looks very stable and the padding really does not scratch the board.
COR Surf wall mount for SUP boards
Brand: COR Surf

can only be used as wall mounting

Screws are included in the package
The Amazon feedback is very positive. The points that stand out from reviews are good workmanship, design, protection against scratches thanks to rubber strips, simple installation and favorable price.
Stoneman Sports ps-35 wall mount for SUPs
Brand: Stoneman Sports

Use as wall mounting

maximum load of 75 kg

Storage of up to three boards simultaneously

Material: steel

for boards up to 83 cm wide / 6 meters long
With the product from Stoneman Sports is equal space for three boards at the same time. The boards are stored one above the other.
Brand: Connex

Use as wall mounting

maximum load 25 kg

for boards up to 20 cm thick

with upholstery

Attention: groove a holder is included in the set. It takes two pieces for a SUP.
The bracket from Connex is a very simple, functional solution. If you attach two Connex brackets, a SUP board can be stowed to save space. Even the two models you come away priced very cheap.
Snowboard holder as SUP board holder
Brand: 4u online trading

Use as a wall bracket

maximum load: 20 kg

Recording width: 20.5 cm

corrosion protection

two holders in the delivery
Originally conceived as a snowboard holder, this model can also serve as a holder for surfboards or stand up paddling boards.
The hook-shaped bracket offers 20.5 cm even space for thick 6 inch (15 cm) boards.
Railblaza Starport Wall Sling: Wall belt system for SUP boards
Brand: Railblaza

Use as wall bracket

How it works: Belts are fixed to the wall at two points and then looped around the board.

two straps and two straps are included
The concept of wall belt systems has been used mainly for kayaks. SUP boards can be fixed just as well in this way.
At two fixed points (Railblaza calls them Starports ) hangs the entire weight. The straps are attached there and then pulled around the stand up paddleboard.
Smaller discount offer many manufacturers from time to time, but at supboard-99.dethere are currently up to 150 € discount on selected SUP boards.
If you do not hit, it's your own fault!
-> To the reduced boards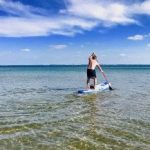 2019 is a great year to enter Stand Up Paddling. Sure the summer will be just as great as last year. And the selection of boards has never been so great!
My favorites for this SUP season are: