Interview with Susen and Stephan from Stand Up Paddling Erlach
SUP for seniors is a big topic that I think will be even more relevant. Susen and Stephan from Stand Up Paddling Erlach in Switzerland offer SUP courses for ü50, ü60 and ü70. I talked to the two experts about the special challenges facing senior citizens. The two give you their tips for board choice and the right entry.
Hi Stephan, hi Susen! Please introduce yourself to my readers first. What do you like paddling on Stand Up?
Stephan:  I was born in Menznau (in the Lucerne area). Professionally it went from the cheese maker to the instrument maker. In my free time, I have spent many years dedicated to my hobbies of motorcycling, music and in recent years of sound work. I spent part of the summer holidays on the alpine pastures with cheese. Because of my partner, I commuted only a few years before I became native in Erlach.
I started Stand Up Paddling shortly after a motorcycle accident and it fascinated me from the first moment. Quickly I realized then how well it did my battered body. The balancing movements on the board strengthen the fine muscles.
Susen:  I was born and raised in the rural environment in the Hannover area. After a business education, the desire to travel seized me. I lived and work in Holland, Costa Rica and Paraguay. I moved to Switzerland in 2002 and since 2007 I live in beautiful Stedtli Erlach. My many years of cultivated hobby riding I changed in favor of water sports.
The first time I stood with friends on the Stand Up Paddle Board. It grabbed me immediately: I found the sport where you can enjoy the lake all year long without any great expenditure of material and time. I felt very quickly that my whole body was strengthened. Being one with the elements of water and wind as well as the tranquility of nature is for me a unique source of energy, in which I can almost meditatively do sports.

Stephan, you came to Stand Up Paddling after your motorcycle accident and reported that it was good for your body. How else do you see SUP from a health perspective?
Stephan: With Stand Up Paddling you train every muscle from the earlobe to the toe. In particular, the deep muscles are strengthened throughout the body and creates an increased body tension, which also comes in everyday life. Through the moving pad, the sense of balance is reactivated and trained and brings us back into balance. Among other things, we also offer SUP yoga, in which additional stretching exercises and breathing technique are integrated on the water while the body is allowed to balance on the board.
Susen: I used to have a lot of back problems (herniated disc, lumbago …) but since paddling on a regular basis these problems have disappeared. I attribute this to the holistic movement and strengthening of the body. Due to the movement in and with the nature on the lake, SUPe has a very relaxing and meditative component for me (see also the article about us: meditation with surfboard and paddle). While the body is active, the mind comes to rest and "the battery" is recharged. And everyone can decide for themselves how sporty you want to be on the SUP on the road or whether you prefer to sit relaxed on the board / lie and savor the peace and rocking on the water.
But now to the actual topic. You offer special courses for Stand Up Paddling Learning for ü50 and ü60 & ü70. SUP with adults and seniors is certainly different than with children or adolescents. What are the special challenges for SUP beginners of the generations ü50, ü60 and ü70?
Stephan & Susen: The special challenge of the more mature generation is the long-standing physical history they bring in the form of eg knee-hip surgery, stunted sense of balance, overweight, lack of body tension.
Self-confidence is often lacking in order to rediscover a still "young sport" in "old age" and not to be put off by the pictures of SUPer athletes on the board. This is precisely why we have created these courses because it is much easier to learn in the environment of like-minded people and in small groups.
With the Ü50 courses we have max. 6 participants in one course and in the Ü60 + Ü70 courses, we have limited the number of participants to 2 people, so that we can respond specifically to the people and support them optimally. In addition, the topic of "How to get back on the board when I fall into the water" is the biggest challenge for this group.
But all the so-called "weak spots" in the body can be wonderfully and playfully activated and trained on the SUP, according to the motto: I get older but always fitter. We know various Ü60 + Ü70 who have even established themselves successfully in the SUP sport.
You have already done many courses. Since you have already collected experience with regard to the participants of the courses. Will more men or more women join your classes? Are the participants generally fit? And which group of participants works best?
Stephan & Susen: In our courses, there are about the same number of men as women and, very often, more mature couples who want to discover a new hobby together. In terms of fitness level, we have covered the whole range in the class and it is not said that a U50 is safer on the SUP than a U70 or that a slimmer person has it easier than a full-bodied person.
We are often very amazed at the talents of our O50-70 courses. The best is the group of participants who have fun with the new, who is not afraid of water and who can climb back onto the SUP alone. We take a hat off to any mature person who dares to embark on a new hobby, maybe falls into the water with a laugh and enthusiastically climbs back onto the SUP or gets help and does not care "what the others think"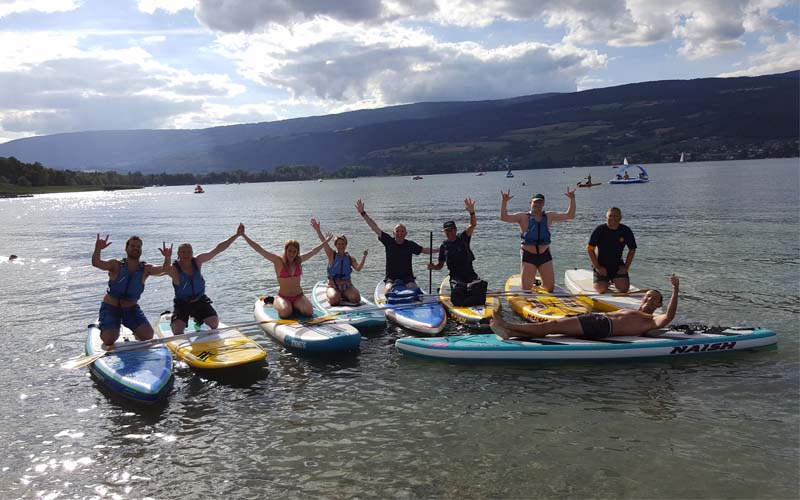 On my website I am particularly busy with SUP boards and accessories. Which boards do you actually use for the ü50 or ü60 and ü70 classes?
Stephan & Susen: As different as our participants and their level of fitness are at the Ü50 and Ü60 + Ü70, so is the range of boards we provide. Each person gets the appropriate board, with size, weight, physical or mental "issues", already experience with SUP play an important role in the classification.
Basically it's all inflatable boards in various lengths and widths as well as very light and high quality fiberglass paddles to protect your arms and shoulders. For safety reasons, our boards all have a leash, and each participant goes with either a life jacket or a restube on the lake.
For people with very big problems getting up or standing on the board, we provide our BIGboard for the first attempts, on which so far everyone could stand up and paddle without problems. As soon as the body has adjusted to the new sport, it is possible to switch to a "normal" board after practicing a few times.
If you want to "practice dry" at home, we will give you some tips for equipment and exercises.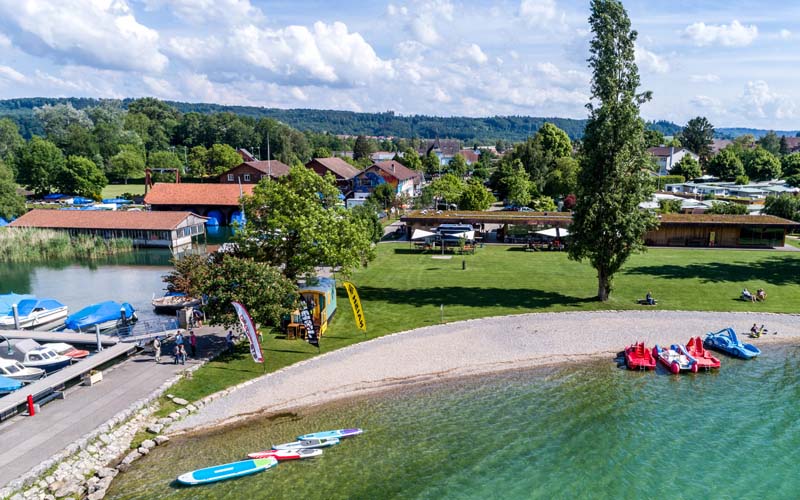 Let's say I'm not 21 years old but 65 years old and I'm super equipped with board, paddle and everything you need, but no water sports experience. What would be your 3 best tips for getting started?
Stephan & Susen:  That's easy:
Sign up for a course where you can learn all about "Where I paddle," safety, weather, traffic rules on the water, material science, and body-friendly paddling techniques to see if you've bought the board, paddle, and accessories that are right for you ,
Try to get back on the board alone and if not paddle when you're alone paddling away from the shore as you can swim again.
Never go to the lake without a leash, put on life jacket, water bottle and a mobile phone and carry the leash on a belt with a ripcord in flowing waters
Now, if someone wants to do a course with you, how can this one reach you? And when do the courses take place?
Stephan & Susen: On our website you can see the opening times. In the winter we have closed, but you can also reach us in the meantime by e-mail or by phone. For information or for inquiries for private lessons, we are happy to help. Registration takes place via our website, by telephone or by e-mail.
Susen and Stephan, thank you for the interview!
The issue of Senior SUP will certainly remain important for a longer time. I believe and hope that in the future even more seniors will become aware of the sport and just try it out. If you live in Switzerland , it is worth visiting the SUP station Stand Up Paddling Erlach on Lake Biel.
The experts know what they are doing. Information, telephone numbers and other contact options can be found on the website  www.supstation.ch . You can read more of the two in the interview meditation with surfboard , which they gave in 2018 to the Swiss Work newspaper.