The best boards for SUP beginners
Typically, SUP boards for beginners are sturdily built, provide a stable footing, cost little to average, and are suitable for a variety of applications. Especially as a beginner you want to use the SUP in different environments. For this purpose, all-round boards are highly recommended. Most of the featured SUP boards on this site are allround boards.
My favorites
For beginners, the selection of SUP boards is first striking. If you are a beginner, your first board should be wide and stable in the water. My favorite beginner SUP boards include these models:
Smaller discount offer many manufacturers from time to time, but at supboard-99.de there are currently up to 150 € discount on selected SUP boards.
If you do not hit, it's your own fault!
-> To the reduced boards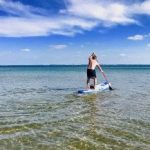 2019 is a great year to enter Stand Up Paddling. Sure the summer will be just as great as last year. And the selection of boards has never been so great!
My favorites for this SUP season are: