The best boardbags for allround, touring and race SUPS
In SUP Boardbags you can easily and comfortably transport your board. The boardbags are suitable for inflatable SUPs as well as for hardboards and also make the storage of SUP boards easier. Especially for heavy models you have to pay attention to the quality of the SUP board bag.
ARIINUI Boardbag Allrounder
Variants: available as 10'0 "and as 10'6"
Width: 36 inches wide (91.4 cm)
good padding (1 cm thick)
Material: nylon and polyester
Features: shoulder strap, slot for fins, ventilation opening and carrying handle
The board bag by ARIINUI is made for all-rounder. Available up to a size of 10'6 "(320 cm) it fits exactly the typical size of allround boards (320 cm).
Furthermore, there are carrying handles and an adjustable shoulder strap, which facilitates the transport. The closure is a zipper.
ProLimit Allrounder SUP Boardbag
Available in different sizes, but not all are always available
the largest size is 11'0 "(335 cm), the smallest 8'6" (260 cm)
Width: varies depending on the width. At 10'0 "and 10'6" there is a slim and a wide version.
7mm thick foam padded walls
Features: Finn slot, front and rear grab handles, paddle paddle belt and adjustable shoulder straps.
The underside of the board bag is white so it does not get too hot in the sun. The bag is zipped.
CONCEPT X SUP Boardbag for 10'6 "Allround SUP
Maximum board size: 322 cm x 85 cm

6mm thick foam padding

Features: Detachable shoulder strap, two carrying handles, extra inside pocket for accessories, fin slot and paddle attachable via Velcro
The Concept X SUP Boardbag offers enough space for the typical all-round board, which measures typically 320 cm x 80-82 cm. In the Concept X, the board can be comfortably transported and stored.
Size: Seven different sizes from 8'2 "to 11'6" available

Width: Different from 72 cm to 86 cm

Weight: varies from 3.1 kilograms to 3.6 kilograms
The combination of width and size could be a problem with the Ion Core SUP Boardbag. Today, many boards are slightly wider than a few years ago. The standard all-round board (320 cm x 80 cm) probably does not fit into the corresponding Ion Core bag (320 cm x 79 cm).
Here would be used to the next larger boardbag.
ProLimit Race SUP Boardbag
Sizes: Available as 12'6 "and 14'0"

Material: polyester

Features: adjustable shoulder strap, zipper, fin slot and the paddle can be attached with a paddle belt
It's also cool that the ProLimit Race Boardbag opens in half so that packing and unpacking is very comfortable. Likewise, as with the smaller version, a white underside was chosen, which cools the board.
ARIINUI SUP Boardbag for touring and race SUPs
Size: 12'8 "(386 cm)
Width: 31 "(78.75 cm)
Thickness: 8 "(20 cm)
Material: nylon, polyester
Features: zipper, adjustable shoulder strap, padded carrying handle, fin slot and ventilation opening
The large version of the ARIINUI board bag is suitable for long touring or race SUPs. These boards are a bit heavier, so it is well located that this board bag with the shoulder strap and carrying handles allows different wearing techniques.
Smaller discount offer many manufacturers from time to time, but at supboard-99.dethere are currently up to 150 € discount on selected SUP boards.
If you do not hit, it's your own fault!
-> To the reduced boards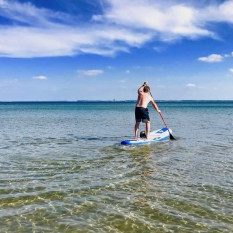 2019 is a great year to enter Stand Up Paddling. Sure the summer will be just as great as last year. And the selection of boards has never been so great!
My favorites for this SUP season are: