The fans of Stand Up Paddling come from different camps. Many fans of kayaking and canoeing are also present.
If you choose a SUP board with a seat, it almost comes to the feeling of an inflatable kayak. A trend that – just like SUP – has come up in recent years.
With the seat you can bring in a lot of variation in your trips. Either you go on a normal SUP tour, work your SUP to kayak or mount the seat and relax in the middle of the lake.
SUP boards with seats are doing quite well. I hear this from many sides. Also you can see correspondingly equipped SUP boards more and more often. Another sign of this trend is the large number of manufacturers selling their boards in packages with such a kayak seat.
If your board does not have a seat, you can easily retrofit it.
In my article about SUP seats I already compared the most popular models.
Everything your board needs to mount a SUP seat is matched by mounting options. Usually SUPs already have D-rings (special eyes in the form of a "D").
If these are missing, I'll tell you which SUP board D-rings you should buy and how to attach the D-rings .
If you are already looking for a SUP board with a seat, you should take a look at the Aqua Marina Evolution . This watercraft combines elements of SUP boards and kayaks. The Evolution is basically an inflatable two person kayak. With a few simple steps, the outer swimming ring can be detached. What's left is a normal SUP (for one person).
Bluefin 330 cm Allround / Touring SUP Board with seat
Brand: Bluefin
for beginners / advanced
Length: 325 to 457 cm
Weight 15 to 19 kilograms
Paddler weight: up to 180 kg
Accessories: high-pressure pump, backpack, paddle, kayak seat, leash, repair kit
The Bluefin Cruise Allround board with seat is my favorite. If you are looking for a SUP with a seat, this is just the model.
You get the usual Bluefin quality, pay much less than the premium brands and have a kayak seat which – thanks to the many D-rings – perfectly mounted on the board.
For kayak mode , the included paddle course has a paddle blade on both sides. For Stand Up Paddling the second paddle sheet can then be removed again.
The set is available in different lengths 330 cm, 365 cm and 457 cm. I advise beginners to the shortest length. Then the board has the typical and proven combination of length and width of an all-round board (330 cm x 77 cm).
The board is not very wide, which makes it quite fast. In particular, when sitting your body of gravity is namely flat and the more tilting stability by a wider board brings you no great advantage.
Advanced users should resort to the 365 cm version. This format makes the board a touring board. Especially for longer tours such elongated shaped boards are great.
The board always scores top marks in terms of customer satisfaction. As can be seen from the many positive customer reviews * , the buyers of the Bluefin Cruise seem to be really excited. Especially in terms of price, the board stands out positively.
Watch Bluefin 330 cm on Amazon *
Bestway Hydro-Force Oceana 305x84x12 cm with seat
Brand: Bestway
for beginners
Length: 305 cm
Weight 11.2 kilograms
Paddler weight: Up to 110 kg
Accessories: paddle, coil leash, carrying bag, pump, repair kit, seat
The Hydra-Force Oeana by Bestway is another top SUP board that now comes standard with a seat.
The seat of the SUP by Bestway is clamped on two front D-rings and offers you a stable and relaxed seating.
Similar to the Bluefin model, the paddle in kayak mode has paddle blades on both sides or just a paddle blade if you want stand up paddling.
Conclusion: The Bestway is one of the best ways to get a SUP board based on value for money. If you want to get into Stand Up Paddling and kayak, the Bestway Oceana is your model.
Bestway WaveEdge with kayak seat
Brand: Bestway
for beginners
Length: 310 cm
Weight 12 kg
Paddler weight: Up to 100 kilograms
Accessories: kayak seat, aluminum paddle, pump, repair kit, carrying bag
The WaveEdge was released in 2013 and yet a kayak seat has been added.
The special feature of the Bestway SUP boards (as well as the WaveEdge board) is the footrest in the front area.
In Stand Up Paddling this is hardly noticeable. When kayaking while sitting, however, it serves wonderfully as a foot rest and, in order to draw additional power while paddling.
The board is similar to other Bestway models.
It is very narrow compared to today's standard. For this reason, it is especially suitable for light paddlers and paddlers.
Blueborn Traveler 305 cm SUP Board with kayak seat
Brand: Blueborn
Length: 305 cm
Width: 77 cm
Maximum load:
Accessories: repair kit, fin, air pump, paddle, seat, carrying bag, footrest
Blueborn has a lot of experience in producing paddles and often received good reviews in these areas.
The SUP Board Blueborn Traveler comes with a matching kayak seat for use as a kayak, which can be attached to the D-rings placed around the board. Also, a footrest can be attached in the front area.
Irritating, I find that the included paddle is just a normal SUP paddle with a paddle blade. For kayak, this form of paddle will be hard to use. The supplied paddle is at least height adjustable, so you at least come forward like in a canoe.
For a multiple use, you will not come here to buy a real two-sided kayak paddle * .
Brand: Bestway
Length: 285 cm
Width: 76 cm
Maximum additional weight: 75 kg
Accessories: backpack, double-sided paddle, double-stroke pump and repair kit
The highwave is the right option for kids and very light paddlers. With a maximum load of only 75 kilograms (according to the manufacturer) is not much on the only 285 cm long SUP Board up.
In the Bestway style, the kayak seat is fixed to two front D-rings, so you can relax leaning into the seat. With the footrest in the front area, you can paddle powerfully in kayak mode.
In proportion to the length of the board is quite wide, so it offers a lot of stability, which is good for beginners.
Furthermore, the accessories are quite handy. The double-stroke pump speeds up the inflation of the board and the backpack makes transport easier.
Conclusion: The Highwave is a great choice for kids and light paddlers and paddlers.
Smaller discount offer many manufacturers from time to time, but at supboard-99.dethere are currently up to 150 € discount on selected SUP boards.
If you do not hit, it's your own fault!
-> To the reduced boards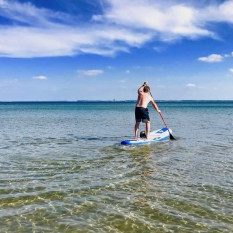 2019 is a great year to enter Stand Up Paddling. Sure the summer will be just as great as last year. And the selection of boards has never been so great!
My favorites for this SUP season are: