Interview with Gernot from FishOnSup
In this interview, Gernot from FishOnSup tells us about his experiences with SUP Fishing, explains what it takes for SUP Fishing, gives tips for the matching SUP Fishing Board and other equipment.
Hello Gernot. Please introduce yourself to my readers first.
The essentials in brief:
Fishing since 1976
SUP since 2010
SUP Fishing since 2015
I founded SUP & smile SUP Center in 2016
married, two children
Windsurfing and snowboarding have been incurable since my youth
How did you come to Stand Up Paddling and SUP Fishing?
Peter Bartl is a friend of mine. I used to go river surfing and fishing with him. When he started SUP, I still thought, "That's boring". I wanted to do Peter a favor and bought a board from him. And in the end: I enjoyed it then.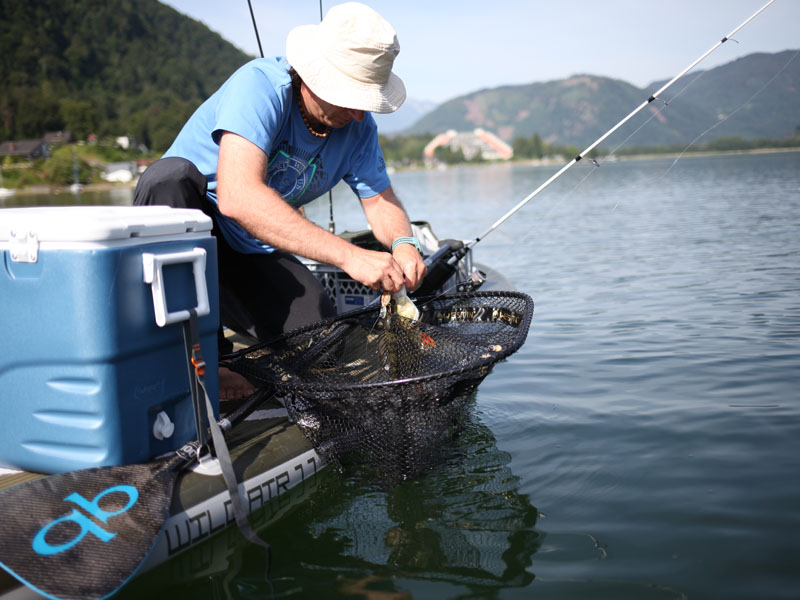 Some years later I was fishing with Peter again. I had already seen some American videos from SUP Fishing. Together with Peter, I went out with some fishing tackle without further ado and tried that too.
And it should not have been the last time.
What are the requirements for someone who wants to fish with a SUP fish?
Ideally you should be able to stand up paddling and also have experience with fishing. In practice, it has been shown that halfway sporty anglers who can not SUP, feel relatively fast on a fishing SUP.
No wonder, these boards are usually extremely resistant to tipping.

You have already thoroughly tested the SUP board Indiana Fisher Fiji. What is important for a SUP Fishing Board?
The top three factors in a SUP Fishing Board are:
tilting stability

enough space for the equipment

sufficient volume for the additional load
A board for fishing still draw mounting options for a cool box or a seat opportunity, as well as recordings for rod holders.
If you still can paddle halfway, it is the ideal SUP fishing board.

What other equipment do you need?
A cool box , which is used as storage space and seating is on longer excursions quite pleasant. An anchor or a sea anchor can also be a great help in windy conditions
Will there even be fishing trips on the Stand Up Paddling Board in the future?
We have already started. The first guests tried the fishing from the SUP and were as enthusiastic as I was.
Thanks to Gernot for his insights into SUP Fishing. Interested parties could certainly take a lot. Especially helpful were the tips, what kind of board and what equipment it needs. If you want to know more about Gernot and its SUP tours, you can find more on fishonsup.at . Other rental stations and courses can be found on our interactive SUP Austria map .