Good Boards for little money
A SUP board does not have to cost much. These models are aimed especially at beginners. For this reason, it is usually allround boards that serve different purposes. For inexperienced stand up paddlers or those who only want to try out the new water sport once, the boards of this price range are ideal. Especially in Germany there are many different models that do not cost much and are still of good quality.
My favorites
Cheap does not mean equal bad quality. Some of my favorite models are not that expensive. If you are looking for a cheap board, you should take a look at these 5 SUP boards:
Smaller discount offer many manufacturers from time to time, but at supboard-99.dethere are currently up to 150 € discount on selected SUP boards.
If you do not hit, it's your own fault!
-> To the reduced boards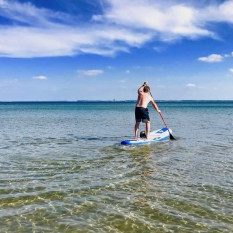 2019 is a great year to enter Stand Up Paddling. Sure the summer will be just as great as last year. And the selection of boards has never been so great!
My favorites for this SUP season are: