Small anchors for SUP and Kayak
The best anchor for small boats, SUP and Kayak
SUP is a great workout, but every now and then you just need some relaxation.
Just lay on the board, close your eyes and enjoy the moment, snack on the food you bring or type a few messages on your mobile phone?
If there is no rest area in sight, that will not work.
How do you want to rest when the currents drive you back for miles?
The solution is of course an anchor.
Anchors for kayaks or SUP are significantly smaller and lighter than for large boats. Most models weigh less than 1.5 kilograms. That's what makes them so heavy that your board or kayak will not run, but again so light that you can carry the small anchors comfortably.
For normal stand up paddlers and kayakers, the corresponding small anchors are a nice extra, which can make tours much more relaxed. If you practice Kayak Fishing, SUP Fishing or SUP Yoga, you will not be able to avoid buying such an anchor. The anchor is standard equipment for these disciplines.
After all, if you're doing your yoga practice or the fishing route is thrown out, you do not want to always paddle.
In the following I propose my favorites for the personal title of the best small anchor for kayak, SUP boards and small boats .
If you want to know more about SUP accessories, I recommend you to look at my articles on SUP cabinets and SUP paddles .
BeGrit 1.5 kg folding anchor

Weight: 1500 grams
Rope length: 10 meters
The folding anchor from BeGrit is the heaviest anchor in my comparison. What initially sounds like a disadvantage, the BeGrit Faltanker but can easily compensate.
For one, the rope is the longest at this anchor. In many canals, rivers and near the shores of larger inland waters, 5 meters are enough. With the BeGrit model, you can be twice as sure that your anchor reaches the ground.
On the other hand, it is a folding anchor. If this is not needed, the anchor can be folded and stowed extremely space-saving. When folded, the anchor only measures 31 x 8 x 8 cm.
Conclusion: Technically, this anchor is a real highlight and can be used with 10 meters of rope length in the vast majority of anchorages. This anchor is my recommendation for anyone who just wants to be safe or just appreciate cool gadgets.
Airhead SUP anchor kit a015
Weight: 750 grams

Rope length: 4.5 meters
The SUP anchor kit is the best option in my opinion if you are looking for a small anchor for kayaks or SUP boards.
The anchor weighs only about 750g and is hardly noticeable while driving. The kayak and boats can easily be stowed below deck. Stand up paddlers can attach the anchor in a drybag.
Once ejected, the Airhead Anchor holds your vessel in place. Now you can fish, do yoga exercises or just relax.
Customer Reviews : Airhead is from the United States. Many reviews are therefore in English.
On Amazon, these customer reviews are very positive ( here it goes to the reviews * ). Kayakers and Stand Up paddlers are mostly positive. This SUP anchor really does!
Conclusion:  I recommend the Airhead everyone, who reaches a 5 meter long anchor rope. If you travel by kayak, SUP or in a small boat and want to anchor mostly near the shore or in shallow water, the Airhead is your right choice.
Weight: 700 grams

Rope length: 8 meters
Aqua Marina is one of the largest manufacturers of SUP boards and SUP accessories. Accordingly, a wealth of experience in the development of new products can be used.
The anchor with nylon rope weighs only 8 grams in length, 700 grams. The weight is saved mainly by the light rope. With only 8 mm diameter and the selected material (nylon) this is very light.
Due to the weight, the anchor holds small boats or SUP boards firmly on the ground.
Furthermore, the anchor is galvanized and thus protected against corrosion.
Boatworld SUP and Kayak Faltanker
Weight: 700 grams
Rope length: 7.6 meters
Boatworld has a red lacquered folding anchor on offer, which can be conveniently fastened to virtually any vessel thanks to the snap hook.
After use, the anchor can be folded up. Space saving, the anchor Boatworld can then easier to transport and store.
Furthermore, the Boatworld anchor has a float. I find such floats on Stand Up Paddling Boards rather annoying because I simply tie my anchor to a D-ring, but this is certainly a matter of taste.
A big advantage, however, is that the anchor can not sink through the float if the attachment should come loose.
Anchors and the little Boye can be stowed in the included bag for transport.
Conclusion: The anchor of Boardworld is a very solid model. Whether you need the Boye for kayaking or stand up paddling depends on you. From the weight and the rope length, this anchor is exactly in the middle between the previously recommended models. The folding function of the anchor is certainly very practical.
Weight: 1500 grams

Rope length: – (no rope included = ')
Talamex offers a DIY offer. The company's folding anchor does not contain a rope. The smallest version of the anchor suitable for SUPs, kayaks and small boats weighs 1.5 kilograms.
Thus alone weighs the anchor more than the previously presented models. However, this anchor can be well transported, at least in the volume dimension, because the Talamex anchor is a folding anchor.
Furthermore, the galvanized anchor is protected against corrosion.
Conclusion: The offer is always solid. Price can be saved with this anchor also really. A matching anchor rope is already available for little money. I recommend this anchor line * . If you take the costs and the time for the knotting together, you may even get away cheaper here than with the top models.
Smaller discount offer many manufacturers from time to time, but at supboard-99.dethere are currently up to 150 € discount on selected SUP boards.
If you do not hit, it's your own fault!
-> To the reduced boards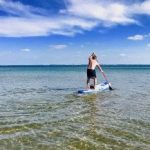 2019 is a great year to enter Stand Up Paddling. Sure the summer will be just as great as last year. And the selection of boards has never been so great!
My favorites for this SUP season are: