Allround boards are the typical boards for beginners. The boards of this class can be used in different fields of application (hence the name comes). The rounded bow, the wider tail, the soft edges and the rounded shape give the all-rounder a very balanced ride.
The boards are very stable. Beginners and beginners quickly achieve first success with these boards. Throughout the bank, the Allround SUP boards are among the best selling models on the market.
My favorites
Allrounder are versatile and often the first port of call for beginners. That's why there are so many different ones. If you are looking for an allround SUP, you should definitely look at these boards.
Smaller discount offer many manufacturers from time to time, but at supboard-99.de there are currently up to 150 € discount on selected SUP boards.
If you do not hit, it's your own fault!
-> To the reduced boards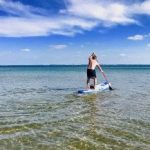 2019 is a great year to enter Stand Up Paddling. Sure the summer will be just as great as last year. And the selection of boards has never been so great!
My favorites for this SUP season are: