The best boards for experienced stand up paddlers
With the experience also the demand for the material grows. Advanced SUP boards are often narrower, sturdier and built from better and lighter materials. Many of the boards are also good as a second board. In particular, the SUPs in shape shape are a real experience.
Hardboards are generally a bit harder to handle, which makes them better suited for experienced stand up paddlers.
My favorites
As an advanced, touring boards are just the right class. These boards promise more speed, higher efficiency and better straight-line stability. Among my absolute favorites among SUP advanced boards are the following models:
SUP boards for experienced paddlers
Smaller discount offer many manufacturers from time to time, but at supboard-99.de there are currently up to 150 € discount on selected SUP boards.
If you do not hit, it's your own fault!
-> To the reduced boards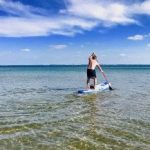 2019 is a great year to enter Stand Up Paddling. Sure the summer will be just as great as last year. And the selection of boards has never been so great!
My favorites for this SUP season are: